Northern Ireland Telecare & Pendant Alarms

Pendant Alarm & Telecare Pricing (Northern Ireland)
TASK has introduced three new pendant alarm & telecare pricing options for Northern Ireland customers for 2019. Options 1, 2 and 3 below are suitable for homes with a landline (including home broadband or WiFi via a landline). If a customer has no landline at home, then a GSM telecare unit can be provided with SIM card for an additional charge. Further details including up to date pricing for our GSM telecare alarm systems are also outlined below.
Telecare Price Match + 10% Discount (Special Offer For NI Customers)
If you can find a competitor who can beat our telecare (monitored pendant alarm) prices in Northern Ireland, we will Price Match + Discount their pricing by a further 10%. Telecare installations are carried out throughout the six counties, County Antrim, Armagh, Down, Fermanagh, Derry and Tyrone. Further details and terms and conditions which apply can be found below.
OPTION 1 | RENTAL
Installation & Set-up | £49
Monthly monitoring | £8
OPTION 2 | PURCHASE (Self-connect)
Purchase telecare unit & pendant | £170
Yearly monitoring | £66
OPTION 3 | PURCHASE (With Installation)
Purchase telecare unit & pendant | £199
Yearly monitoring | £66
Plus these further benefits when TASK monitors your NI telecare system
✔ Free battery replacements for your pendant alarm button (...most other telecare suppliers will apply a charge)
✔ Fully digital telecare units for customers with WiFi and broadband. Means faster connection speed, more reliable & no phone charges!
✔ Free maintenance on your telecare base-unit while we monitor your telecare system
✔ Top quality pendant alarms and telecare from TeleAlarm | Swiss Design • Made in Germany

✔ Pendant alarm button range (from base unit) is a 'minimum range in free field' of 300m. That's more than six times the distance of some of our competitor's pendant alarms, which transmit only up to 50m from a telecare alarm base unit. That can be particularly important if you leave your weekly recycyling out yourself, or if you like to spend time in your garden!

✔ Your pendant/wristband alarm is IP 67 water-proof and dust-proof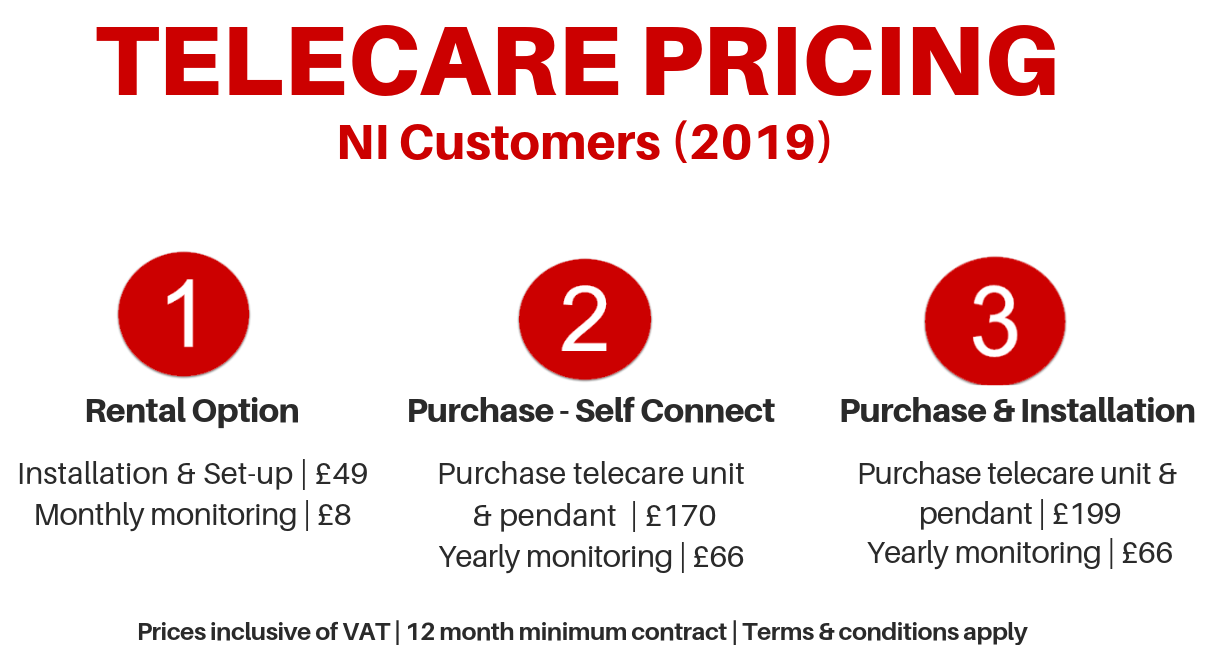 Telecare For Customers With No Landline
If a client has no landline we can provide them with a GSM telecare unit (fitted with SIM card) for 24-hour access to our monitoring centre. For these clients, the same landline pricing options as above apply, with an additional £5 per month charged for the GSM unit with SIM card included (£60 yearly | Minimum 12 month contract).
Safety First Telecare™ | Unlimited call credit for panic alarm activations
The SIM card is supplied with unlimited call credit for panic alarm activations to our 24-hour monitoring centre, and there are no additional call charges for the client.
Safety First Telecare™ | Multi-network roaming SIM card
In the interests of client safety, we only use multi-network roaming SIM cards in our GSM telecare units. These are not steered to a specific network which means they are free to connect to the strongest connection available. Should an emergency call fail to get through for any reason on one network, the roaming SIM will search for another network (such as O2, Vodaphone, Three or EE). Client safety is therefore increased as access to all UK mobile networks quadruples the reliability of the critical communications path to the monitoring centre.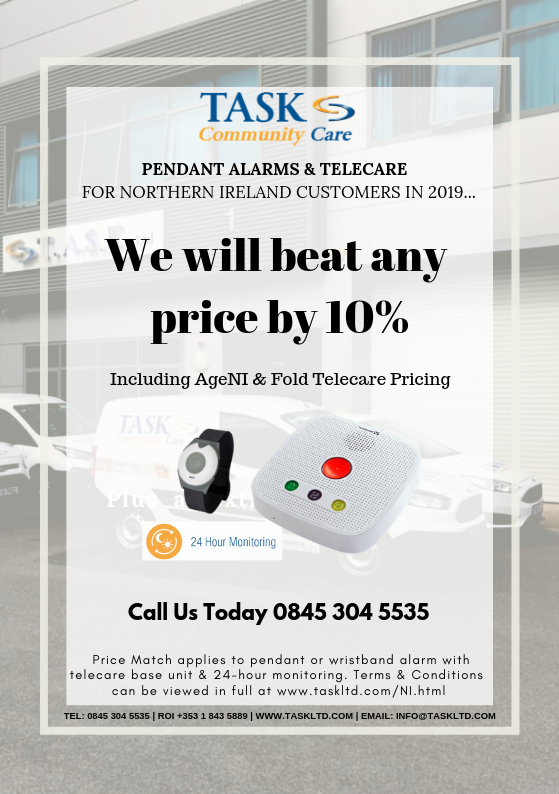 Pendant Alarm & Telecare Price Match (Northern Ireland)

Terms & Conditions
Price Match applies to pendant or wristband alarm with

telecare

base unit & 24-hour monitoring.
Minimum contract period of 3 months, or longer if competitor's price is conditional upon longer minimum contract duration.
Price Match is only available to residential customers who reside in Northern Ireland.
Products being price matched must be new.
Price Match is applicable against any competitor to TASK who is a VAT registered business in the UK but excluding auction sites, market stalls, private sales, liquidation sales, our own stores and websites or any typographical errors.
This offer is valid until the order is placed by the customer.
Products must be in stock at competitor and available for immediate purchase or delivery.
We will only match against any advertised competitor selling price which is available to any member of the public, which excludes promotional vouchers and on-line codes. If unsure please contact us.
Customer must provide evidence of competitor pricing, such as by reference to prices on competitor's websites or from copy of written quotation provided by competitor. TASK must be able to verify the current offer with the competitor.
Prices being matched must be inclusive of VAT.
All Price Match transactions are at the discretion of TASK.
TASK Ltd reserves the right to withdraw the Price Match at any time.
Price Match applies to landline telecare alarm systems only.
GSM system Price Match will be considered at our discretion only if competitor is supplying a multi-network roaming SIM card with the GSM telecare unit.
*We will require contact details of at least two nominated contacts/keyholders in case of a fall or emergency, for when you press your pendant alarm button for help. Your telecare system will be monitored 24/7, 365 days a year by trained CareLink™ Call Handlers. Contact TASK Community Care on 0845 304 55 35 during office hours, with any further Northern Ireland pendant alarm and telecare enquiries.
Page last updated: 13 February 2019