Fall Detector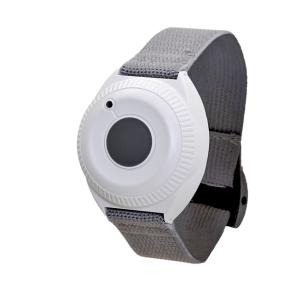 Automatic Fall Detector
The Fall Detector has both a help call button and an automatic fall detector which triggers the impact of a fall. Each type of alert transmits a different alarm code which can be uniquely identified in our 24/7 CareLink Monitoring Centre in Ireland.
Integrated personal alarm button
The panic button can be pressed in an emergency situation to send a message that help is needed. With its waterproof, hypoallergenic plastics and its ergonomic button, the detector can be worn like a watch. It has been designed for maximum comfort for everyday life. 
How the fall detector works
When a significant impact occurs, the fall detector will start diagnosing the fall. Before the alert is transmitted, a vibration pre-alarm starts. During this time, the alarm can be cancelled by moving the arm. This avoids false alarms. The device is also able to avoid any false alarm by analyzing the fall and detecting if it should send an alarm or not. The automatic trigger will only be activated if the person wearing the detector is unable to push the button, for example in case of unconsciousness or immobility. The detector is not activated in all fall situations, such as were no significant impact occurs. 
Features
The Fall Detector has the following features:

▶Automatic fall detection
▶Integrated vibration pre-alarm
▶Fall detection can be easily cancelled
▶24/7 support gives peace of mind
▶Typical battery life is two years if activated once per day
▶Ergonomic and water-resistant

▶Fall Detector Warranty - 2 Years
Other fall detection devices
We supply a range of fall detection systems which send an automatic alert if someone has a trip of fall in the home. The range of devices includes bed and chair occupancy sensors which register an alert when someone exits a bed or chair. Pleae visit our telecare for falls page for details of these and our other fall detection alarms.

How to purchase
If you have any questions about the fall detector or its compatibility with your current telecare system please do not hesitate to give us a call. To purchase your fall detector system please contact us.
INFORMATION BROCHURES: [PDF] Fall Detector